Join us for the first Virtual Meet-Up!
Thursday, June 2
2:00-6:00pm CEDT, 8:00am-12:00pm EDT, 5:00am-9:00am PDT, 10:00pm-2:00am AEDT
The BCI Virtual Meet-Up is an event that will bring together the BCI community to network, share experiences, and make new connections.   The event features both structured networking events to optimize connection as well as casual mingling opportunities.
The Virtual Meet-Up is organized by the Postdoc and Student Committee.
The event will be held in Gather Town.  We invite all to participate.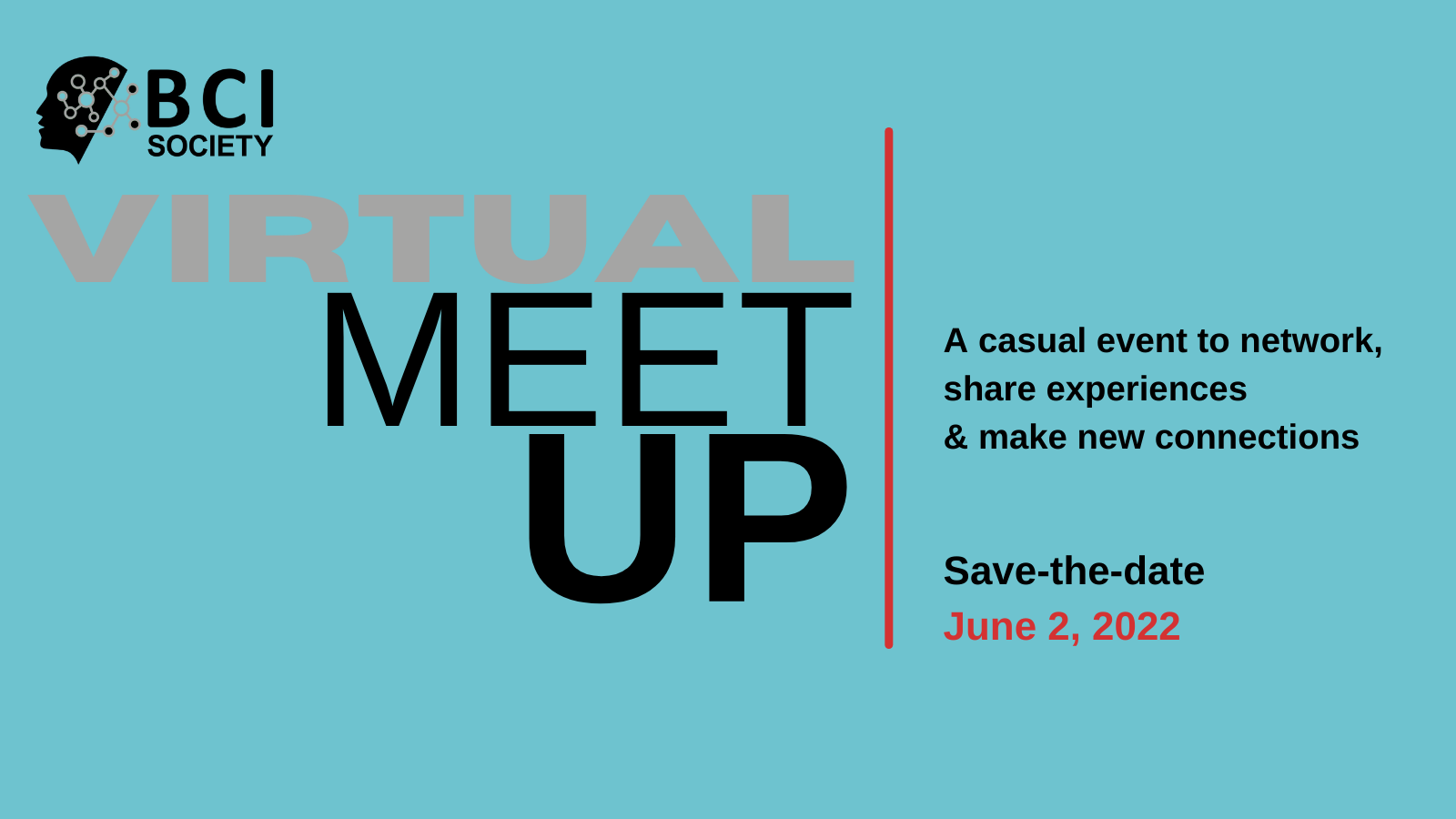 Registration
Registration opens: April 18
Deadline to participate in the Speed Dating sessions: May 18
Registration fee
BCI Society member: complimentary registration
Non-member: $10 
Program
See the program-at-a-glance here
Speed Dating
The Speed Dating sessions allow students and early career researchers to meet for 10 minutes with PIs, post-docs, and industry mentors to gain valuable insights, guidance, and advice to help be successful in their academic pursuits and professional development.
We aim to match mentor and mentees based on some keywords. Mentees can also indicate specific persons they would like to meet. All are welcome to participate. We will do our best to match mentors/mentees, but whether we are able to provide matches for everyone will depend on the number of mentors/mentees who sign up to participate.
You can sign up to participate as mentor or a mentee via the registration form. Note that if you wish to participate in the Speed Dating, you must register by May 18.
Job Fair
This is a unique opportunity to meet with representatives of various companies and organizations, to learn more about an organization and find out about job opportunities available to you in your fields of interest.
Participating companies: 
– OPEN BCI INC.
– TKS
– AE Studio
– UC San Diego
– Brain-Computer Interfaces, Taylor and Francis Publishing Group
– BCI Society – Meet the Board
– BCI Society Communications Committee
Note: Companies participating in the Job Fair will be updated regularly
Diversity Social
The BCI Society welcomes all attendees to participate in the Diversity Social. Come and learn more about education, advocacy and allyship to create a community of equity and inclusive excellence in the BCI Society. The Diversity Social is an opportunity for all members of the BCI community to engage with issues related to their individual identities.
Sign up for a booth at the Job Fair!
Hiring companies, educational institutions, not-for-profit organizations have the opportunity to showcase their employer brand and pitch to a crowd of skilled candidates on why they're the best choice around.
The Job Fair is an excellent venue to:
Meet the BCI Community top talent
Pitch your organization to prospects
Put your culture on full display
Identify potential new hires in the BCI field
Display company product to BCI audience
Interact with senior BCI researchers
Job Fair participants will have a booth space in the Job Fair area of Gather Town.  There will be one dedicated Job Fair session and we strongly suggest that you staff your "booth" during that time to maximize engagement with attendees.  You will be able to post one PDF document, accessible at all time during the day.  The document can present specific job offers, general information on the organization, contact information, etc.
Partnership Opportunities prospectus is accessible here.
Corporate rate: $100
Not-for-profit organizations, labs, educational institutions: Free
 About Gather Town
Gather.town is a video-calling experience designed to help people gather online. Create your avatar, use a video-calling interface and wander around a 2D style space with other attendees. As you move around the map with your keyboard arrows, the webcam video and microphone audio of the other people in the room fades based on your distance to them.